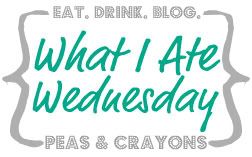 It's time for my most favorite post of the week, What I ate Wednesday!
Breakfast was a yummy bowl of GF protein oats, blueberries and almond butter = inhaled in a sleepy state. Thus:
Lunch AND dinner consisted of my new fav – Southwest Stuffed Peppers – with tempeh!
SO good, I had it twice.
Left-overs are a busy girl's BFF.
Dessert was Katie's Chocolate Chip Cookie Dough Dip with cinnamon apples.
I may or may not have licked the bowl. Filling and healthy!
What did you eat Wednesday?
xoxo
Jess